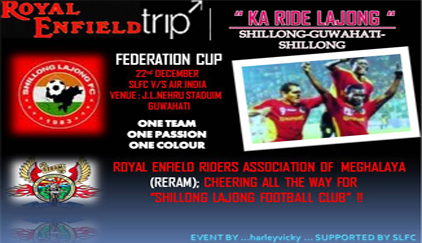 This Christmas season something was different. Unlike any other winter morning on 22nd December around 10 AM few men and women clad in stylish leather jackets, donning RED T-Shirts, on powerful machines rode in unison. In a moment the reason became evidently clear SLFC plays against Air India.21 Royal Enfield Motorcycles lined up on the campus of U So-So Tham auditorium to participate in a solidarity rally to support Shillong Lajong Football Club which is playing in the 2009 edition of Federation Cup. The rally christened as "KA RIDE LAJONG" in literal sense meaning riding for your own; was flagged-off by Mr. Robert Lamare a prominent businessman and a passionate fan of the game. The team of bikers was led by Mr.PS Warjri who is the president of Royal Enfield Riders Association of Meghalaya (RERAM). The group which is actively involved in non-profit social work; like Aids awareness programs, carol singing programs with old age homes, fundraising for orphanages etc.
Amidst peak hour traffic and curious onlookers the bikes moved along the busy city roads until they reached national highway before unleashing the real power from within those 350 cc engines. Inviting highway, bright sunshine, thumping engines, SLFC flags flying high, all this just added to the feel good factor. Enroute, the riders made two stops; breakfast by the picturesque Umiam Lake and Lunch @ Nongpoh. The riders regrouped and resumed the journey post lunch and were advised to halt on the outskirts of Guwahati to be interviewed by Print and Electronic Media. Soon enough, the pack of riders rallied behind each member through the JL Nehru Stadium entrance gate; venue for the match.
The game began as scheduled, With Shillong lajong wearing whites. The atmosphere was great considering SLFC to be the only team from the North Eastern part of the country. A large number of audiences joined the riders to Chant and cheer for team Lajong across 90 mins of play time. As Lajong drew first blood the excitement only grew bigger and better. Eventually when the game did get over the score line read SLFC-2 AIR INDIA -2. The riders were content and consoled as their team did not lose the match on that day. As the clock struck 9 PM the roar of the engines could be heard again from all the 21 bikes for their long ride back home.
"KA RIDE LAJONG was an honest endeavor to passionately support and rally behind our home team particularly for games played away from home. A lot of our fan following needs to transform into physical attendance in the stadiums; especially for away games" said Vicky MD of harleyvicky pvt Ltd an events company which conceived, initiated and organized the rally supported by SLFC and RERAM.