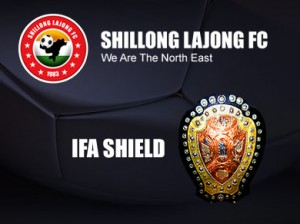 The fourth oldest club cup competition in the world organized by the Indian Football Association kicked off today, the 3rd of March 2012 at the Salt Lake stadium and it was inaugurated by West Bengal's Sports Minister Mr. Madan Mitra.
A noted Brazilian Premier League club, Botafogo FC will be the most alluring team as they will be seen in action for the 116th edition of the IFA Shield but the two famous clubs from Kolkata, Mohun Bagan and Mohammedan SC will not be a part of the tournament. Also, no Goan team will be seen competing for the IFA Shield including last year's champions Churchill Brothers due to the Goa Super Cup which will be held from March 9-13.
Two teams from Shillong, Ar-Hima and Shillong Lajong FC will also be in attendance, while others include East Bengal, Bhawanipore SC, Pune FC, Paillan Arrows, Mumbai FC, Aryan Club, Prayag United, Chirag United, Aryan Club and Southern Samity.
For the 116th edition of the IFA Shield, ROSE VALLEY is the title sponsor. The IFA also informed that cash prizes will be awarded for the teams and the winner will receive Rs.20 Lakh. However, the runners up will get Rs.15 Lakh and two semi finalist team will be given Rs.5 Lakh each respectively.
The most outstanding player will be awarded with the best player of the tournament along with Rs. 25 Thousand  including the Sailen Manna Trophy. The Best Coach will get to take the Sir Rahim Trophy along with Rs. 50 Thousand.
FIXTURES
03.03.2012 : KF East Bengal VS Bhowanipur SC
04.03.2012 : Pune FC VS Pailan Arrows
04.03.2012 : Chirag Kerala VS Southern Samity
05.03.2012 : Bhowanipur SC VS Shillong Lajong
05.03.2012 : Mumbai FC VS Aryan Club
06.03.2012 : Pune FC VS AR-Hima
07.03.2012 : Proyag United VS Mumbai FC
09.03.2012 : KF East Bengal VS Shillong Lajong
09.03.2012 : Botafogo ( Brazil) VS Chirag United Kerala
10.03.2012 : Proyag United VS Aryan Club
10.03.2012 : Ar-Hima VS Pailan Arrows
11.03.2012 : Botafogo ( Brazil) VS Southern Samity
12.03.2012 : 1st SEMI FINAL
13.03.2012 : 2nd SEMI FINAL
16.03.2012 : FINAL