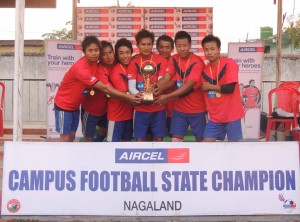 Adroit Boys defeated Phevima Apex Football Club 1-0 on penalties to win the Aircel Five A Side Campus Football Tournament in Dimapur on Monday hosted by Dimapur District Sports Association at the DDSA Ground and refereed by officials from the Dimapur Football Referees Association.
As many as 32 teams participated in the Dimapur leg, in the ongoing Aircel 5 A Side Campus Football Tournament organised by Aircel in association with Shillong Lajong FC.
After a goalless 14 minutes of play, both teams went into penalty shoot-out and it was Adroit Boys who emerged victorious as they put the game to bed with a 1-0 win againt Phevima Apex FC.
The winning team has now advanced to the grand finale and will go head to head with the winning teams from Shillong, Imphal, Aizawl and Guwahati (the edition of which will be played on Friday). The grand finale will be held in Shillong on the 18th of May and winners from each state will battle it out to win the ultimate grand prize of Rs.2 Lacs and the best player of the tournament aptly called "The Aircel Star of Lajong" will get to stay and train with I-League Club Shillong Lajong FC for a week.