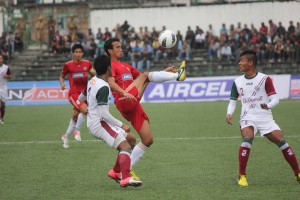 The All India Football Federation have removed the two-year I-League ban which was earlier imposed on Mohun Bagan following their Kolkata derby as the Mariners refused to field their team in the second half against East Bengal on December 9.
AIFF's executive committee met in New Delhi on Tuesday and the Kolkata club has been slapped with a fine of Rs. 2 Crore. Also, no official from Mohun Bagan will be allowed to represent the club in AIFF or I-League meetings in the current calendar year.
The decision was taken during the AIFF's executive committee meeting, chaired by president Praful Patel including AIFF General Secretary Mr. Kushal Das, Senior Vice-President Mr. Subrata Dutta, Vice-Presidents Mr. Shrinivas V. Dempo, Mr. Larsing Sawyan, Mr. K.M.I. Mather, Mr. Subhash Chopra and Treasurer Mr. Hardev Jadeja, other members also attended the meeting.
"The executive committee, after due deliberation, Mohun Bagan will be continue to play in the current season, but they will lose all the 12 points they have earned so far in the league. They will start with zero points and will have to pay Rs. 2 crore as compensation," Patel said.
"There is a panel provision under which the quantum of damage can be decided by the executive committee," he added.
"We have also asked them to provide an undertaking that they will never again breach the rules or get involved in an act of indiscipline," Patel said.
Sunanda Dhar, CEO of the I-League will chart out a revised fixture and Mohun Bagan will have to pay the fine before their next match.
East Bengal on the other hand has been awarded 3 points while Mohun Bagan has been deducted 12 points, the total points which they had after nine games prior to that clash against East Bengal.
Karim Bencherifa's side who are back in the I-League will start their campaign with zero points which will be a tough task that if they are to stay away from the relegation zone, they have to win almost all their matches considering this year the league has become very competitive.
It may be mentioned that Shillong Lajong FC won 2-0 against Mohun Bagan in the first I-League home match in Shillong on 6th October, 2012. Due to the ban which was imposed on Mohun Bagan, three points were deducted of SLFC but with the decision that was taken by the AIFF today, the ban has been removed and three points have been awarded back to Shillong Lajong FC.