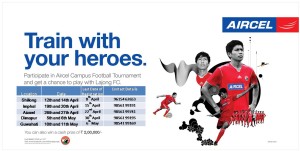 The Aircel 5 A Side Campus Football Tournament kicks off in Aizawl at the Zarkawt High School Field on Friday.
Aircel, one of India's leading telecom players, in association with Shillong Lajong Football Club has organised the five a side football tournament across 5 different NE States, in which the winning team will win a grand prize of Rs 2 Lakh, along with a trophy.
The tournament kicked off in Shillong on the 12th of April and SAI were crowned as the Shillong champions. The second leg was organised in Imphal on the 19th of April and ASL emerged as the winning team amongst the 32 teams who participated in the tournament.
Furthermore Aizawl will be hosting the third leg, where 32 strong football teams will fight against each other to stand a chance in advancing to the next round and win the ultimate prize at the Grand Finale, to be held in Shillong on the 18th of May 2013. The tournament will also have the best player award, aptly called "The Aircel Star of Lajong", in which the best player of the tournament will get to travel to Shillong and stay and train with Shillong Lajong FC  for a week.
The tournament will also be conducted in two more North East cities – Dimapur and Guwahti on the 6th and 10th May respectively and it is open for boys between the age of 16 and 23.