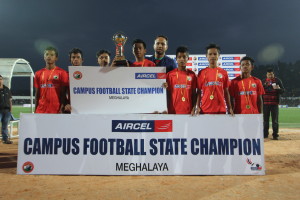 SAI beat Young 7, 1-0, on Sunday at the Polo Ground,Fifa turf in the Aircel 5 A Side Football Tournament, organised by Aircel in association with Shillong Lajong Football Club.
SAI have advanced to the final round and will fight for the "Aircel Five A Side North East Championship" on the 18th May 2013.
The Aircel Five A Side Campus Football Tournament will also be conducted in Mizoram, Manipur, Nagaland and Assam.
The winning team, however, will win a grand prize of Rs 2 Lakh, along with a trophy. The tournament will also have a "Best player award", aptly called "The Aircel Star of Lajong", in which the best player from all the 5 States will get to travel to Shillong and stay and train with I-League Club Shillong Lajong FC  for a week.
| | | | |
| --- | --- | --- | --- |
| Location | Tournament Date | Last Date of Registration | Contact Details |
| Shillong | 12th and 14th April 2013 | 8th April | 96154 62653 |
| Imphal | 19th and 20th April 2013 | 15th April | 98561 99191 |
| Aizawl | 26th and 27th April 2013 | 22nd April | 9856199741 |
| Dimapur | 3rd and 4th May 2013 | 29th April | 98561 99195 |
| Guwahati | 10th and 11th May 2013 | 6th May | 98541 99169 |
| Final(Shillong) | 18th May |  NA | NA |