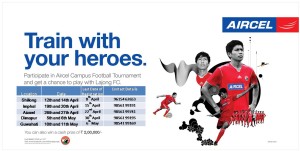 Aircel, one of India's leading telecom players, in association with Shillong Lajong Football Club has announced an exciting and unique football tournament for youngsters – Aircel Campus Football Tournament, in which the winning team will win a grand prize of Rs 2 Lakh, along with a trophy.
The five-a-side football extravaganza kicked off in Shillong, on the 12th and 14th of April, at Polo Ground.
A total of 32 teams participated in Shillong out which 8 teams returned on Sunday to play the quarter-finals. The semi finals and final was also held on the same day and it was SAI who came out victorious beating Young 7, 1-0 to and advanced to the final round (fight for North East Championship).
Aircel Five A Side Campus Football Tournament will traverse the length and breadth of the entire North-East region, including Mizoram, Manipur, Nagaland and Assam,with the next stoppage being the "Football State of the North-East"-Manipur, to be held in Imphal.
The last day for registration is on 18th Arpil, Thursday. Contact number 98561 99191.
The tournament will also have a best player award, aptly called "The Aircel Star of Lajong", in which the best player from all the 5 States will get to travel to Shillong and stay and train with Shillong Lajong FC  for a week.
Matches will be of 14 minutes duration and is open for boys between the age of 16 and 23.