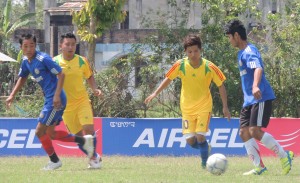 The Five A Side Campus Football Tournament ,an event by Aircel, in association with Shillong Lajong FC, will be brought to a grandstand finish on the 18th May 2013, Saturday at the JN Stadium Shillong, where in the winning teams from 5 North East states namely SAI from Meghalaya, ASL from Manipur, Ramhlum Venglai FC from Mizoram, Adroit Boys from Nagaland and Barpeta Town Club from Assam will compete for top honours amongst themselves, for the ultimate prize of Rs 2 Lacs INR.
Apart from the big prize money, 5 top players will also be chosen from amongst the 5 teams each, who will get to train with Shillong Lajong FC for 1 week. From these five top performers, the Best Player will be chosen and be given the title of the "Aircel Star of Lajong".
The one day football fiesta will also feature a promising and upcoming DJ from Shillong ,DJ Neo, to add to the festivities.
The teams will be pitted against each other in a league format and the top two teams will qualify for the final. The first match has been tentatively scheduled to kick-off at 9:00am, lining up the proceedings for a day of football and music.
The event has been kept free and open to the public.