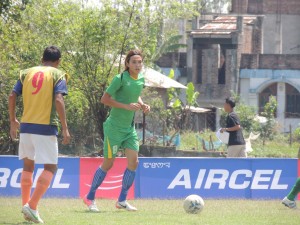 As many as 32 teams from Imphal participated in the Aircel 5 A Side Campus Football Tournament organised by Aircel in association with Shillong Lajong Football Club at the Malom Football Ground, Imphal on Friday.
16 teams advanced to the second round and fought hard to reach the quarter finals. Under very hot conditions, four teams knocked out their opponents enabling them to reach the semi finals. SIRTI FC met NAHAROL YAIPHA LAMJING CLUB in the first semi final while YWC (A) met ASL in the second semi final. It was Naharol and ASL who edged out their respective opponents in the final round to reach the Final of the Aircel Five A Side Campus Football Tournament – Imphal.
Both teams displayed a stunning performance and gave their very best in the final and scored a goal each leading to penalty shoot out. In the end, it was the very determined ASL who defeated the impressive Naharol team and celebrated with joy as they lifted the winning trophy.
The Aircel Five A Side Campus Football Tournament first leg was held in Shillong and the second venue was Imphal (today) and three more venues (Aizawl, Dimapur and Guwahati) remain before the final round in Shillong is conducted next month.
The winning team, however, will win a grand prize of Rs 2 Lakh, along with a trophy. The tournament will also have a "Best player award", aptly called "The Aircel Star of Lajong", in which the best player from all the 5 States will get to travel to Shillong and stay and train with I-League Club Shillong Lajong FC  for a week.