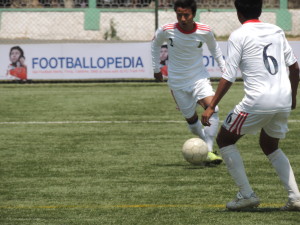 32 teams from Shillong battled it out at the Polo Ground on Friday, in what was a thrilling yet an exciting, Aircel 5 A Side Football Tournament, organised by Aircel in association with Shillong Lajong Football Club.
The windy weather conditions did not stop the enthusiasm of the young skilful and talented footballers, who played their heart out in order to advance to the next stage.
Since the tournament was conducted in a knock out format, the losing teams had to leave gutted with the result, while the winners contemplated the challenge ahead.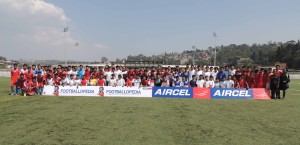 16 teams were knocked out from the first round and the second round resumed after lunch break. The second round stages proved to be tough for all the teams with some games requiring penalty shoot outs to decide the Winner.
Spirits were high after a great day as the remaining 8 teams will return on Sunday to play the quarter finals at 12 pm. The Semi Finals and Final will also be played on the same day.
Following are the quarter final fixtures for Sunday:
1.         Sporting Spirit vs JFC Knights
2.         Stephen Hall (A) vs SAI STC Shillong Green Team
3.         Bleed Blue vs Young 7
4.         SOS FC vs Paz Shorta
The Aircel Five A Side Campus Football Tournament will also be conducted in Mizoram, Manipur, Nagaland and Assam.
The winning team, however, will win a grand prize of Rs 2 Lakh, along with a trophy. The tournament will also have a "Best player award", aptly called "The Aircel Star of Lajong", in which the best player from all the 5 States will get to travel to Shillong and stay and train with I-League Club Shillong Lajong FC  for a week.
| | | | |
| --- | --- | --- | --- |
| Location | Tournament Date | Last Date of Registration | Contact Details |
| Shillong | 12th and 14th April 2013 | 8th April | 96154 62653 |
| Imphal | 19th and 20th April 2013 | 15th April | 98561 99191 |
| Aizawl | 26th and 27th April 2013 | 22nd April | 9856199741 |
| Dimapur | 3rd and 4th May 2013 | 29th April | 98561 99195 |
| Guwahati | 10th and 11th May 2013 | 6th May | 98541 99169 |
| Final(Shillong) | 18th May |  NA | NA |