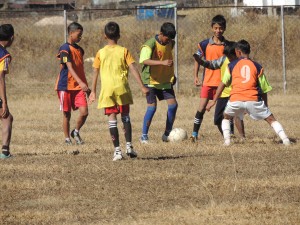 Shillong Lajong FC will be organising the "Aircel Lajong Football Coaching Clinic" for coaches on the 28th of December at 10AM in Polo.
The coaching clinic is limited only for 30 coaches.
The Aircel Lajong Football Coaching Clinic will be conducted by John Godbold, a UEFA "A" Licence Coach and has also worked at Queens Park Rangers FC and Crystal Palace FC.
Godbold arrived in Shillong on the 18th of December, conducted the Aircel Lajong Soccer Camp in various places including Mawlai, Bhoirymbong, Mairang, Sohra and Mylliem.
The camp will also take place in Jowai and Shillong on the 27th and 31st of December respectively.
For registration please contact:
27th December Aircel Lajong Soccer Camp in Jowai: 9436106399
28th December Aircel Lajong Football Coaching Clinic in Polo: 8575016665 Shillong Lajong FC Office
31st December Aircel Lajong Soccer Camp in Polo: 8575016665 Shillong Lajong FC Office