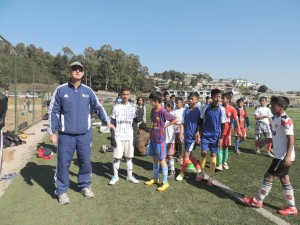 The Aircel Lajong Soccer Camp concluded on Monday at the FIFA Turf in Polo ,Shillong. The final edition of the camp saw a turnout of over 280 budding footballers below the age of 13 years.
The 7 day long Soccer Camp conducted by UEFA "A" Licence Coach John Godbold saw a total of over 2000 kids from different parts of Meghalaya participating enthusiastically ,between a period of two sessions-morning and afternoon session.
The camp was conducted by Godbold and Shillong Lajong's Coaching Staff in as many as 7 venues, which included Mawlai, Bhoirymbong, Mairang, Mylliem, Sohra, Jowai and Shillong.
Speaking about the camps in all 7 places, John Godbold said that the response from the people has been amazing and it was heartening that more than 1600 boys participated in the soccer camp.
" The attitude of the boys were excellent. They listened, watched, concentrated and worked really hard. I'm impressed by the young people here who showed great agility, balance and coordination."
He also said that, " the local people also helped us organise the camps and also made sure that we had the right facility and they also helped us in the registration process".
The 47 year old coaching expert added, "It is clear that the most important aspect to improve the players is to get good quality coaching and getting better technical understanding".
"It is crucial to learn and understand that it takes 10,000 hours of purposeful practice in order to become the very best".
A 1 Day Coaching Clinic for Coaches was also organised by Shillong Lajong FC which was conducted by John Godbold. "The coaching clinic was based on helping the coaches to understand that they are teachers of the game. It is very important that they have a better understanding of how their players learn and this will help the coaches to provide the purposeful practice".
Shillong Lajong's coaching staff and the junior boys from the academy also played a big role throughout the camp. They taught a lot of football skills and gave technical training to the kids who participated in the soccer camp.
Football Scouts from the Club also took the names of some of the talented boys who caught the Scouts' eyes through their talent and ability.
Indeed for the young kids at all the venues, it was indeed an experience worth cherishing their whole lifetime, as they got to train with one of the best Coaches this side of the globe, and got to meet and interact with their favourite Shillong Lajong FC player , but more importantly, they got to learn the tricks and trades of the Beautiful game that is football.