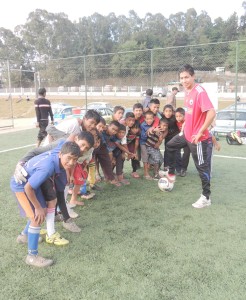 The Aircel Lajong Soccer Camp will kick off tomorrow, the 19th of December which will be conducted by John Godbold, a UEFA "A" Licence Coach from England.
Kids participating in the camp are requested to carry their own water and should be in their football kit.
The camp which will be held in Mawlai tomorrow will start at 10AM.
There will be a coaching camp on the 28th December in Shillong and registration can be done in the Shillong Lajong FC office (Hotel Centre Point) or contact 8575016665.
The camp will be held in 7 different venues;
Mawlai – 19th December
Bhoirymbong – 20th December
Mairang – 21st December
Sohra – 22nd December
Mylliem – 24th Decemner
Jowai – 27th December
Shillong – 31st December
To register please contact the following numbers;
1)Mawlai- contact: 9863097182
2)Ri-Bhoi(8 zones)
Byrnihat Zone:
9774081744
Nongpoh Zone:
9774593654
Umden Zone:
9862529771
Umdihar Zone:
9615637727
Umsning Zone:
9612693572
Mawhati Zone:
9612496517
Bhoiryymbong Zone:
9612911371
Mawlasnai Zone:
9615192394
3)Mairang contact No.-Syiem Studio Ph.No:- 9856007365
4)Sohra: 9856622604
5)Mylliem: 9436304725
6)Jowai: 9436106399
7)Shillong: SLFC Office (Hotel Centre Point)