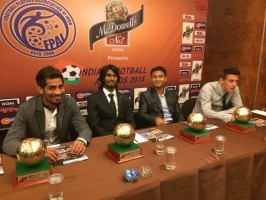 Shillong Lajong's Star Midfielder and Free Kick Specialist Boithang Haokip won the Fans player of The Year Award in the Football Player's Association Of India Awards 2014 which was held in Kolkata on Tuesday.
Coach Thangboi Singto and Cornell Glen were also nominated for the Best Coach and Best Foreign Player Category respectively but unfortunately could not make it to the winner's list as Bengaluru FC Coach Ashley Westwood won the Best Coach Award while Darryl Duffy took away the Best Foreign Player Award.
In the other two categories, Churchill Brothers Goa Striker Balwant Singh won the Indian Player of The Year Award while Alwyn George won the Young Player of The Season Award.
Shillong Lajong Football Club would like to thank all the fans who voted for Boithang Haokip and we are proud to have fans who have supported the Club throughout the season.
We would also like to extend our heartfelt gratitude to the media for their continuous support all season in informing the public about the club's activities via their esteemed print and electronic media platforms.