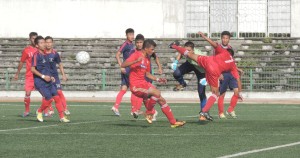 Boys Sports Company registered a 3-2 win over Shillong Lajong Junior Reds, in what was a thrilling First Division Shillong League encounter at the JN Stadium Shillong on Saturday.
The Reds started brightly and enjoyed most of the early possession right from the word go and took an early lead in the 29th minute when Hardy dribbled past the Boys Sports Coy defender on the wing and made a overhead cross into the box finding Shanbor who made no mistake in putting the ball behind the net.
Boys Sports started pressing hard to find the much needed equaliser and did so when Bikram Adhikari netted in the 38th minute.
The first half was no doubt very competitive but both sides went into the break all square.
After the break, Bikram Adhikari found his brace in the 65th minute via a free kick and Boys Sports had a two goal advantage over the Junior Reds.
Luck was with Boys Sports Company when Tshring Bhutia also managed to put his name on the scoresheet in the 71st minute.
However, the "Never Die Spirit" of the boys was evident when they continued to pass the ball around in an attempt to level the scoreline.
And their efforts were rewarded when Lalramuana converted a penalty in the 77th minute after a handball by the defender of Boys Sports.
Thereafter, it was Lajong playing aggressive and attacking football while the Boys Sports Company stood firm in their defence not giving a chance to the Junior Reds to draw level.
The referee eventually blew the whistle to hand Boys Sports Company the Champions of First Division Shillong League, however, both the teams have been promoted to the Shillong Premier League next season.