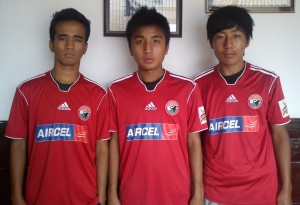 Its destination Munich for the three Shillong Lajong Football Academy boys, Founder Passah, Malsawmkima Vanchhia and Imliakum Longkumer who have been handpicked by the German team scouts in New Delhi last year.The boys will be part of the Indian team who are playing in the Bayern Munich Youth Cup, a grass root developmental  programme.
The boys will depart from Shillong on Sunday, the 20th May,and will be looking to make a mark for themselves on international soil.
When speaking about the trip, the boys exuded excitement and enthusiasm about the prospect of playing  in international standard facilities and the best infrastructure. All this has to be credited to the efforts of the Shillong Lajong Football Academy, and the Academy's efforts and endeavour has paid off with three of the wards heading to Munich to take part in the Club's tournament.