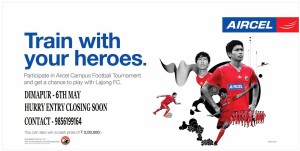 Aircel, one of India's leading telecom players, in association with Shillong Lajong Football Club will conduct the fourth leg of the Aircel Five A Side Campus Football Tournament in Dimapur scheduled on the 6th May, Monday.
Interested participants can register their team- consisting of 5 players and two substitutes between the age of 16-23 years.
Contact – 9856199195 or register at Aircel Store, Unique Roofing, Midland, Dimapur.
The tournament will be hosted by Dimapur District Sports Association and will be played out at the DDSA Ground, Dimapur.
The tournament is being held across 5 different NE States, in which the winning team will win a grand prize of Rs 2 Lakh, along with a trophy.
The winning team from Nagaland will go head to head against 4 teams from other States,which includes SAI from Shillong, ASL from Manipur, Ramhlum Venglai FC from Mizoram and also the Guwahati winners ,the edition of which will be held on the 10th of May,2013.
The Grand Finale will be held in Shillong on the 18th of May 2013 and the tournament will also have a best player award, aptly called "The Aircel Star of Lajong", in which the best player of the tournament will get to travel to Shillong and stay and train with Shillong Lajong FC  for a week.