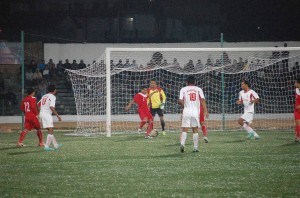 Manipur will take on defending champion Mizoram in the final of Dr T Ao Memorial Football Tournament after defeating host Meghalaya by 1-0 goal in the second semi-final played at JN stadium, Polo on Monday.
Earlier in the day, Mizoram defeated Arunachal Pradesh by the same margin in the first semi final.
Coming to the match, Meghalaya manage to keep Manipur on the back foot from the very beggining of the match. Besides dominating the ball possession, the host team was also able to dictate the pace of game.
Meghalaya nearly went into the lead within three minutes into the match after Donbok Khymdeit who made a great run into box took a powerful strike which was save by Manipur  goalkeeper S Dinakumar.
Meghalaya got another oppurtunity to score in the 14th minute with skipper Niwan-O-Gatphoh made a great through towards Barland R Syngkon, who failed to take control of the ball otherwise he had to beat only the goalkeeper to score.
After this missed oppurtunity, Meghalaya continues to put pressure on the Manipur defenders eve as managing to create several openings to score. The host team got a golden oppurtunity to score in the 30th minute but Milancy Khongstia who made a great run into the box from the right flung failed to pass the ball towards Khymdeit who had an open goal.
In the dying minutes of the first half, Manipur came very close to score after F Lal Zarzo attempted bicyle kick saw the ball sailed over the cross bar. The first half finally ended with both teams failing to score.
Within a minute after the break, Gatphoh was again in the thick of things as he beat two of its opponent defenders but failed to provide a great pass towards Khongstia who was left unmarked.
While making a counter attack, Manipur finally manages to break the deadlock in the 50th minute after Md Sohail took a powerful strike after receiving great a ball from the left flank
which saw the ball went passed Meghalaya custodian Alwyn Pathweth.
Despite trailing by a goal, Meghalaya continues to play an attacking game. Their efforts nearly paid off in the 60th minute after Khongstia strong right footer saw the ball missed the goal by a whisker.
Manipur could have doubled their lead in the 80th minute after KH Naoton powerful strike beats the goalkeeper, but luckily for Meghalaya the ball went to hit the bar.  The host team tried very hard to get all important equalising goal in the dying minutes of the match. The Manipur manage to hold on their nerves and won their contest by a solitary goal. (EOM).