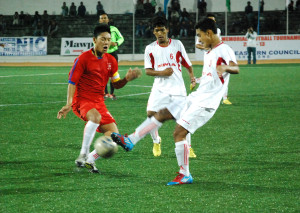 Mizoram was held to a goalless draw by Manipur in the final league match in Group B of Dr T Ao Memorial Football Tournament played at JN stadium, Polo on Saturday.
Following of the outcome of this match, both Mizoram and Manipur have qualified for the semi-final from Group B after Tripura was held to a 2-2 draw by Sikkim during the first match of the day.
Tripura needed to win to have any chances to qualify to the last four stage. Finally, Mizoram top the points table in Group B with 7 points while Manipur with five points took the second spot.
In the semi-finalst to be played on Monday, Mizoram would take on Arunachal Pradesh while host Meghalaya would take on Manipur.
Coming to the match, the first half was an evenly contest with both Mizoram and Manipur playing an agreessive game putting pressure on its opponents defence.
During the initial part of the first half, both the teams failed to create any real scoring oppurtunities despite managing to penetrate into its opponents on numerous occasions.
In the latter part of the half, Mizoram did manage to take control of the game.F Lalrinpuia nearly put Mizoram into the lead in the 39thminute after his strong left footer misses by the goal by a whisker.
Three minutes later, Mizoram could have gone into the lead after Lal Bia Khula who was left unmarked misses a golden oppurtunity to score as he failed to put the ball into the net.
The first half finally ended with both teams failing to score.
After the break, Manipur started off the second half in an impressive manner by having maximum of the ball posession.
Despite taking control of the match, Manipur failed to create any real scoring oppurtunities during the initial part of the half.
Moreover, it was Mizoram who is playing a counter attack game nearly went into the lead after V Lal Tanpuia poweful strike from 20 yards away was brilliant save by Manipur custodian S Dinakumar.
In the closing stages of the match, both teams tried very hard to go into the lead. Despite an entertaining contest, the contest ended in a goalles draw.