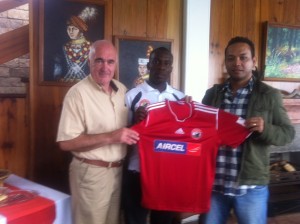 Shillong Lajong FC has completed the signing of Nigerian footballer Ebi Sukore from Mumbai FC.
The 29 year old midfielder will be donning the Lajong colours for the up-coming season for an un-disclosed fee.
Sukore has played for clubs like, Persik Kediri (Indonesia), Semen Padang (Indonesia), PSIS Semaraang (Indonesia), Persis Solo (Indonesia) and Mumbai FC (India).
SLFC Head Coach, Desmond Bulpin said that," I am very happy to have signed Ebi Sukore  who is an attacking midfield player and scores goals. He has a good scoring record in midfield and a reputation of being a good player.
I have a good working relationship with the club's General Secretary, and before I came to Shillong, he did an outstanding job in signing many good players. We agreed on signing Friday and Ebi Sukore and we expect both of them to perform well this season.
I would like to welcome him to the North East and wish him a successful and happy time in Shillong. I hope the fans will make him happy and make him feel welcome."