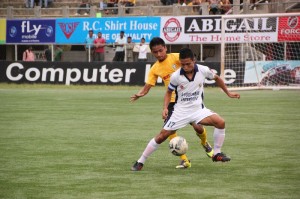 FC Kulikawn defeated Luangmual FC 2-1 in an evenly contested Mahindra 2 Wheelers Mizoram Premier League match today (1st November, 2012).
FC Kulikawn drew the first blood in the 34th minute, B Zoramthara's shot was deflected into his own net by a Luangmual FC defender.
The Nigerian recruit K Kingsley doubled the advantage by a well taken goal in the 42nd minute.
Second Division I League team Luangmual FC scored their only goal in the 58th minute by an impressive youngster Lalmuankima, however, they wasted lots of chances in the end and could not equalise.
Kulikawn has three points from two matches and Luangmual has a point from two outings. Rohmingthanga of FC Kulikawn was declared the man of the match, the former Shillong Lajong midfielder received a cash award of Rs 1,000.