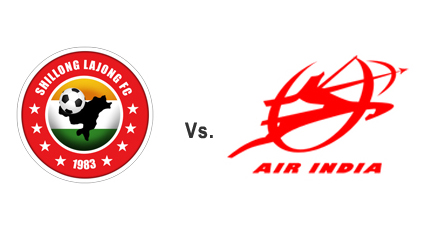 Shillong Lajong and Air India both played out an entertaining 2-2 draw. The match started with Lajong winning a corner straightaway from kick off. The stadium was filled with Lajong supporters and the atmosphere was energetic. Both teams started quick off the blocks as they searched for an early lead. Lajong found that lead within five minutes through, Tuboi. The Lajong defence played a long ball and as Farid went to clear his headed it straight into the oncoming Tuboi who calmly chipped over keeper Sawant as he went down early for a 1-0 lead. Lajong then took control of the game as the movement and pace of the two Lajong strikers, Tuboi and Gurung was stretching the Air India defence.
Both sides continued to ignore their defence as the game took on a hap hazard feel with some end to end football. Air India were slightly lucky as even though Gurung and Tuboi were running circles around their defence, they had not managed to extend the lead.
Lajong looked set to go into the break when the referee awarded a free kick inside the penalty box for time wasting by the Lajong keeper! Even with nine men in the wall, the Air India skipper Khelemba Singh stepped up and smashed the ball into the top corner. Air India were slightly lucky to go even into half time.
The second half started just as the first half with Lajong going into the box almost straightway. Tuboi found space on the right and crossed for Gurung and even though the Nepali completely scuffled his shot, the Lajong midfielder running onto the loose ball was brought down inside the box for a clear penalty. Daniel converted to regain the lead.
Air India equalised when Yusuf broke away from the pack on the left and sent in a lofty cross, Kailash Patil rose up to thump is a header from 10 yards out. Air India equalized for the second time in the match.
At the end of 90 mins and a bit the points were shared thus leaving the entire group wide open.
Goalscorers
Shillong Lajong: Tuboi Seikhohao (5') and Daniel Bedemi (47')
Air India: Khelemba Singh (41') and Kailash Patil (53')