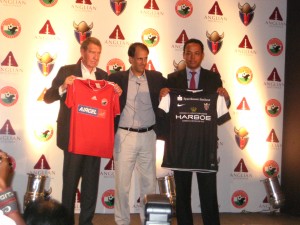 Kolkata (India) 29 February 2012: History was created in the City of Joy and It was a phenomenal experience as our very own, Shillong Lajong FC and Anglian Holdings, has signed an agreement which is the first strategic NRI investment in a club which retains its unique identity and majority ownership . The main motive is to promote and improve the standards of the game so that they can give maximum exposure to the Indian Footballers. The investment in the two clubs aims to establish a platform for Indian Footballers so that they can showcase their talents at the global level.
Anglian Holdings :
Anglian Holdings, a young and dynamic multi-national company is widely known for its passion and interest towards energy, real estate, commodities, sports, steel processing, arts and cosmetics. It is headquartered in Dubai with offices in Delhi, Dubai and Switzerland. The most important aspect of the company is to create a synergy between various global aspects with the aim to promote Indian skills and technology through their company's extensive network.
However, Anglian Holdings, an NRI-owned multi-national corporation with diverse global investments, announced in a press conference held today in Park Hotel Kolkata, the acquisition of stakes in Shillong Lajong FC, one of the most prominent football club from Shillong, Meghalaya. The company projected its recent investment publicly in the Denmark-based football club, FCV Vikings with the prime objective of developing a pipeline for bi-directional exchange of talent, knowledge and expertise between the two clubs.
Thus, Anglian Holdings and the Danish Club will help Lajong in setting up an international standard football academy which will be able to scout new talents who will be responsible to take Indian football to an extraordinary level.
The two clubs formally entered into an agreement with the exchange of the team jerseys by FC Vestsjaelland president Kurt Anderson and SLFC General Secretary M Larsing Sawyan. However, Mr. Dhruv Ratra , CEO-Sports & Marketing,Anglian Holdings was also present during the press conference and said "Our association with football stems from our deep-rooted passion for the sport that all of us at Anglian share, coupled with the desire of seeing Indians compete and do well at the highest levels. We should be actively looking at scouting, training and promoting Indian football talent, using Shillong Lajong FC and FCV Vikings as channels to take Indian football to the world".
The General Secretary of SLFC said that, it is a great boost for the Indian football because this is the first time that there is an FDI which will help build Lajong into an institution, make them better and thus, making Lajong more competitive. He also believes that the club will continue to give its best to promote football not only in the North Eastern Region but across the nation. He hopes that this agreement will also help in bringing a change in the football scene in India. He concluded by saying that this will also strengthen the relations between India and Denmark and North East India in particular and hopes that the fans will be proud in the years to come with this initiative and collaboration.
Anglian Futures Advisory (an Anglian Holdings Indian subsidiary), Chief Executive Advisor Sunny Narang said that," the company will be working together to provide a platform for young Indian footballers to have access to skills, technology and experience of professional football with the purpose of taking talented footballers to European Leagues. He also informed that the tie up finally took place after an intense study, research and survey of all the I League teams including some from the 2nd Division before deciding to collaborate with Shillong Lajong FC because they believe that Mr. Larsing M Sawyan and his family are immensely devoted to the cause of developing football and also is aware that Shillong is the football capital of India with a very strong fan following and support towards the sport and also the club.
Kurt Anderson, President, FCV Vikings has a broad vision and has immense faith in SLFC and Indian Footballers in particular to compete at the highest level internationally. He also said that Indian Footballers need the technical know- how, the right training and the right kind of atmosphere so that they can be groomed and exposed to the best coaching staff and training facility. The main purpose of this agreement is to build a strong relationship between India and Denmark. The club has high hopes and believes that in the next five to seven years they will be able to provide players with a strong background with special reference to excellent training facilities and a more mature understanding of the game. Anglian is also interested in investing on young talented footballers who are ambitious and build them from the lower level to a higher level. He has also expressed his desires to bring FCV Vikings and host world class sporting events in the country. He is immensely interested in taking the coaches and Indian footballers to Denmark, to provide them an opportunity to get proper training and play for the club in the Danish Premiere League He is also planning to bring FCV Vikings to play against SLFC in Shillong in order to have a clearer understanding of each player's potential including their strengths and weaknesses .The company's major initiative is youth development and their main intention is to look for talent and provide them with proper training in order to build a stronger national team and introduce young footballers to a new world.
Janice Lynrah
Media Manager (SLFC)