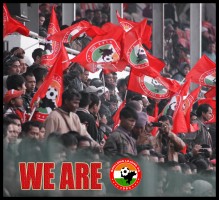 22rd November,2013 is all set to etch itself as a historic date to remember for Football fans in the North-East and more so the city of Shillong, as the city's two famed football Clubs, Shillong Lajong FC and Rangdajied United FC go head to head against each other, for the first ever "Shillong Derby". Truly, the encounter will be one of gigantic proportions, and the magnitude of significance that the match holds can be said to equate only that of the Kolkata Derby (Mohun Bagan vs East Bengal). Both the Clubs will be backed by their own legions of passionate fans, which will only add to the fervour and excitement of the match.
For their first season in the I-League, Rangdajied FC have displayed sheer tenacity and grit in their home encounters to etched out 2 consecutive draws against the two Goan giants, Dempo SC and Churchill Brothers. Their away form though, has taken a bit of a pounding, losing to United Sc and Benguluru FC by big margins.
The Reds, strangers no more to the I-League, are the clear favourites-on paper, even as they seek to draw first blood in what will be the first of their many to come encounters against their next door opponents. Always cheered on by a fiercely supportive home crowd, known as the "Lajong Faithfuls" ,Shillong Lajong will be up against two of their former players ,-Rangdajied's captain Eugeneson Lyngdoh and Joy Kharaswai.
Eugene has been instrumental in raising his team's performance when they needed him the most and he will be the talisman in the Blues and Whites squad, and is the danger man that Lajong will be wary of the most. David Ngaite, the diminutive poacher in front of goal is another player who can trouble the Lajong back four and the two will surely be a handful for the Reds.
Whatever the result may be however, the football loving people of the city are all set to witness an epic battle at the J N Stadium-the stakes are high, the bar raised, as honour and pride are at stake with each kick of the ball.
Come 22nd November,all roads lead to J N Stadium, as Shillong Lajong and Rangdajied battle it out for bragging rights and at the end of  90 minutes, the city would have chosen its colour.