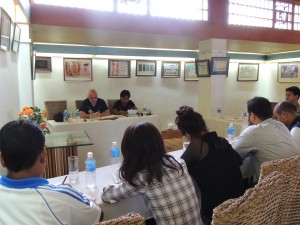 A brief but in depth interaction between Shillong Lajong Football Club Head Coach Desmond Bulpin and the local media was held today at Centre Point Hotel, where in the Coach spoke at length about the Club's philosophies and vision. Bulpin, who has recently taken over the team, said that he has had the time to assess the Club ,and believes that the Goal 2014 project, which is a youth development program, is the way forward. The Coach also made reference to the ongoing Shillong premier league, saying that preference has been given to the Under-19 players to make their presence felt in the local scene, and also pointing out that he has been very impressed by the standard of the league.
He further said that the senior team has had just four days of training, and as such makes it improper for them to play in the local league, in the upcoming matches. They will also go through a pre-season training schedule, which is a must for them to stay fit-mentally and physically,and in preparation for the upcoming season.  Hence going forward, the club will stick to its policy of youth development, and will field the Junior team for the remaining matches of the Shillong league.
The Coach closed the interaction by saying that the Club sincerely  hopes that the supporters and fans take the announcement and deem it to be a positive decision, to take the Club forward to a position of poise, strength and growth, and that it has been through their support so far, that has made the Club what it is today, and together the Club and the supporters will continue to scale and achieve new heights.