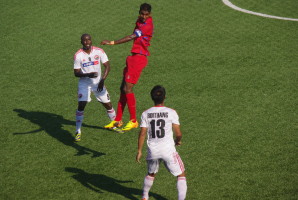 Shillong Lajong FC pick up their third win away from home as they beat Churchill Brothers SC with a scoreline of 0-1 in Mapusa, Goa during the 14th round of matches in the I-League. Cornell Glen scored the solitary goal for the visitors as they make it two wins in a row.
The game was favourable for Shillong Lajong FC as they were on a high note and looking to carry their form from their last game but it was the home team who had a bright start creating a lot of chances. Balwant Singh was closest to scoring after his shot in the 30th minute hit the post and Shabana's rebound was put wide. Shillong Lajong had their prolific striker Cornell Glen back from injury but they were still missing the services of Captain Minchol Son and Brazilian striker Uilliams Souza Silva. The first half ended with much to think for Thangboi Singto's men.
The visitors started the second half on a much better note than the first, creating more chances and holding better possession. Churchill Brothers still kept threatening in the second half, looking for the opening goal but it was the visitors who scored against the run of play. Cornell Glen found his 8th goal of the season in the 71st minute after a cross from Seikhohao Tuboi was converted by the Trinidad and Tobago striker. The Red's attack was given a much needed lift after the goal as man of the match Taisuke Matsugae spearheaded the Lajong attack. The Reds almost lost their lead in the 84th minute after Bineesh Balan's shot was cleared brilliantly off the line by Lalchhuanmawia Fanai. However the home team could not find a late equaliser as the final whistle went in favour of the visitors.
The win thus catapulted Shillong Lajong FC into third place in the I-League table with 20 points from 13 games. Churchill Brother's title defence has now turned into a fight for survival as this loss puts them in the bottom of the table with only 7 points from 12 games.