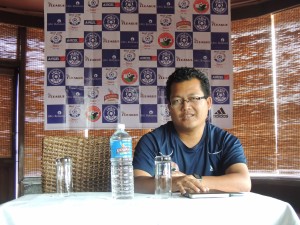 Shillong Lajong FC will face Mumbai FC in an I-League round 24 match, in what will be the last home game of the season to be played at the JN Stadium Shillong at 5PM on Sunday. It will be indeed, a fitting culmination of the euphoria and strong support of the Shillong supporters, who have never failed to turn up in thousands to rally behind their team.
The match will witness Shillong Lajong FC trying to get past their series of draws (3 on the trot) and improve their standings as the season reaches its final curve-a season that has been nothing short of a rollercoaster ride.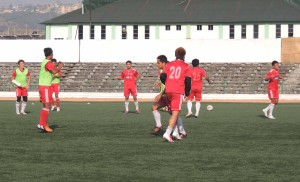 The Reds displayed a good and solid performance against ONGC but were left wanting for more, as they had to share the spoils with the Oilmen (1-1 draw) last Sunday, which also witnessed the home crowd coming in huge numbers to support the boys in Red.
Mumbai FC , on the other hand, lost their round 14 away match against Mohun Bagan 3-2 at Kalyani,and will be seeking to turn things in their favour this time  around. The Mumbaikars have also been on a winless streak and it will be no wonder that the stakes are high for tomorrow's high octane encounter.
In a pre-match press conference that was held today Coach Thangboi Singto commented on tomorrow's game and said, "As a team we try to do well no matter who we play against and I feel that we played well against ONGC last Sunday."
He further said, "We want to defend properly tomorrow and try to bring more attacking spark in front. Three points will be very crucial considering the situation we are in right now and it is a must win game for us tomorrow. Every player has given their best and we have a good depth and strength in every position."
Mumbai FC team manager who was also present for the pre-match press conference said, "This season we performed much better than last season but we haven't achieved our target as we wanted a top four finish this season. However, we will come back stronger next season and hope to achieve our target."
Mumbai FC is currently in the 6th position and have two more games remaining that is against ONGC and Sporting Clube De Goa.
Mumbai FC team manager Henri, concluded by saying that, "It is very difficult to play Lajong at home because of the crowd. The fans are superb and they come in large numbers to support their team. But we will be looking forward to fight back and have a good game tomorrow."