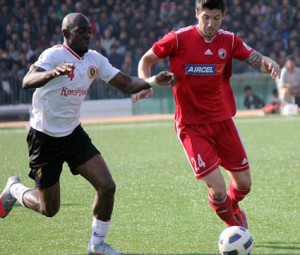 Matthew Osvaldo Mayora, the towering Shillong Lajong FC striker, who joined the club mid-season, recently spoke about his career, his personal life and his stay at the club. The Uruguayan-descent Australian has scored 4 goals, and is looking forward to the next season with gusto and enthusiasm. The following are excerpts from the interview.
SLFC : How has the journey from Bonny Rigg White Eagles FC to Shillong Lajong FC been?
Matthew: It has been a great learning experience for me with beautiful memories that I will cherish for the rest of my life. I started my professional football career at the age of 15 with Bonny Rigg White Eagles and it was a nerve wrecking stage because I was the youngest player in the squad and it was my first ever contract which ended after two years.
When I was 17 years old, I joined Bankstown City Lines and played there for one season.
After that I was with Marconi Stallions and later I joined Bonny Rigg White Eagles again and was there for three years.
From then, I played for Sydney Olympics for three years and I also got the Golden Boot. Then I went to Perth Glory and travelled to Indonesia and played in Uruguay for Montevideo Wanderers for five months. After that I played in my final third year for the Sydney Olympics.
I travelled to Uruguay again and played for River Plate for one whole season which lasted for six months. After the season got over, I went back to Australia and played for Marconi Stallions in the 2nd division.
Shortly, I got many offers from India and the first club that approached me was Mohun Bagan but nothing could be finalised. The other club that contacted me was Southern Samity and I signed a contract with them. I featured in the Federation Cup and the Kolkata League, and played 8 games and scored 4 goals.
But I got an offer from Shillong Lajong and I have been with them since then.
SLFC: What has been your best moment so far?
Matthew: Scoring my first I-League goal against Pailan Arrows.
SLFC: Who is your idol?
Matthew: My dad. But football wise, it would have to be Euzo Frencoli, the former Captain of Uruguay.
SLFC: When you came to India and Shillong in particular, did you experience any kind of a cultural shock?
Matthew: No, I did not because I have travelled to Indonesia and many other places before. So, I had an idea of how it will be and I have to say this, "Shillong is the best state in India". The climate is great and the people here are warm and friendly. It was not difficult for me to adjust and I will definitely miss the people of Shillong.
SLFC: Any comments on the football scene in India and North East in particular.
Matthew: North East is much more better in terms of style and passion. They really know football so well. They are smart and intelligent about the game. Where as in other parts of India, I feel that they need to pull their socks up. It is very disorganised and they need to update the structure.
SLFC: It has been said by the general public that Lajong plays one of the most enterprising and entertaining football in the League. What are your thoughts on that?
Matthew: Lajong plays a different style of football and it's because of the training we get from the coach. It is quite different from the normal long ball style of football that we usually see in India.
SLFC:What are your  Hobbies?
Matthew: I love listening to music and watching movies during my free time. I also enjoy playing PS3 and love going out for shopping as well.
SLFC: Any message to the fans?
Matthew:I want to ask all my fans and supporters of Shillong Lajong not to give up hope as we can do much better in the next season. I do not want them to get angry at us or the club. If they really are true fans then they should stand by our side during failure and success. We really need your support and belief in us. If I get a full season with Lajong, it will be great and I will give a better performance and will try to help put the club at the top of the League's standings.