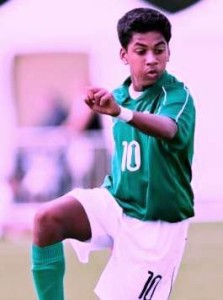 Its destination Reading FC  for India Junior Brandon Fernandes as he heads to the club for a two-week trial. The player's UK based management company, Kemp Thornton, were reluctant to reveal the name of the club. Brandon will be at Reading for two-weeks once he passes a medical test. "He is looking forward to the test," said a source to the Times of India.
Brandon, the only Indian footballer to have been part of all age group teams, has already left Cape Town, South Africa for London along with Africa Soccer Development (ASD) Cape Town director Mike Steptoe.
Reading are in a precarious position in the Premier League as they have not won in the last six games and are currently in the relegation zone.
There is an excitement surrounding Brandon's trials at Reading and he has been swamped with phone calls and e-mails. "Its fantastic and we can't wait to see what the rest of the week brings," a Kemp Thornton spokesman said.
Brandon's father Jaju Fernandes, was nervous as well as excited. The former executive committee member of the Goa Football Association (GFA) was quoted saying, "We have always dreamed of seeing our son play football at the highest level.