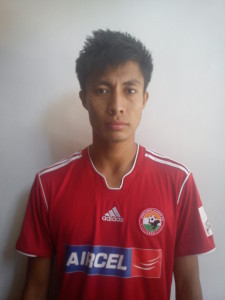 Soram Anganba Poirei, a professional football player from Manipur,made waves recently when he was shortlisted in the probable list of the India U-22 team, for the AFC U-22 qualifiers.
Having took up football quite late in his life,Poirei,over the passage of time, has matured into a very talented footballer-a journey which started with the Imphal Coaching Camp,way back in 2002 .
The shy young Lajong custodian has completed his class 12 from Mt. Everest College in Manipur and loves to go on fishing trips, whenever he gets the time.
He regards Dempo SC as his favourite Indian Football Club and Manchester United as the best Football Club in the world.
Soram A Poirei has been selected in the initial rounds for India U-22 team in the AFC U-22 qualifiers but there is one more selection round remaining before he gets the final confirmation of his selection to be a part of the Indian National Team in few months from now.
In a recent interview with Shillong Lajong's Media Manager, Soram A Poirei shared his views on football, his club and life in general, just after he got selected and here are the excerpts from the interview.
1)Congrats on being selected for the India Under-22 team to play in the AFC U-22 Qualifiers in June/July, so how do you feel???
Soram: Well, I am very happy, and excited. This has proved that all the hard work has paid off.
2)Any expectations on the upcoming selection process ahead(30 member squad)
Soram: No expectations as such or worries. I just have to concentrate on my natural game.
3)We have been drawn with Oman, Iraq, UAE, Lebanon and Turkmenistan in Group A, Is this an intimidating group???
Soram: Not so much but it is quite a tough group. But I believe that it will be a good experience playing against these much bigger and stronger teams.
4)How was the whole selection trial like,at the Pailan World School?Was it a rigorous process?
Soram: It was basically just matches, which were 30 mins-a half matches. It was different though, as we were used to 90 mins games.
5)What was your motivation and mantra while at the trials?
Soram: Throughout my whole life, my Dad has been my inspiration and role model, and he's that one person who I look up to whenever I am down.
6)On a more personal note,when did you started taking up football seriously? Tell us something about your life as a footballer.
Soram: Initially I was never interested in football, but it was my Dad who encouraged and motivated me to take up the game. He is responsible for waking up the footballer in me.
I have been playing since 2002 and my whole football experience started with a coaching camp, in Imphal. Two years later, in 2004 I represented NCC Imphal in the Subroto Cup.
I got selected for TFA in 2007 which ultimately didn't work out for me due to many circumstances and then I got myself enrolled in the IFA Academy in Haldia. I was there for about 1 year, and I learnt so much as a footballer.
My professional footballing career took off when I went back to Imphal, where I played in the A-division league, with a local club-Thau FC, and I also representd Manipur at the national under-19 B. C Roy tournament in 2009-10. I then played for the Pune under-19 team and ultimately signed with Shillong Lajong FC in 2011.
7)How has your whole Lajong experience been uptil now?
Soram:At the beginning, it was difficult adjusting. I mean new players, new style of playing. But with time, everything seemed to fall into place. Time as they say, does everything on its own.
8)Any memorable moments with Shillong Lajong FC so far??
Soram: The game against East Bengal was quite memorable as we came from behind and went on to win the game, that too in front of the home crowd.
9)Your role model/idol.
Soram: I really admire Subrata Paul(Pune FC)and Edwin Van De Sar(ex-Man Utd).
10)Coming back to Shillong, what is your take on the city??
Soram: Well, my first visit to Shillong was with Lajong FC itself. Initially Shillong was difficult in terms of adjusting to the city, but I love the fact that people here love their football and support their own teams unlike back in my home state Manipur. They only love football as a game.
11)Your message to the youth and aspiring footballers.
Soram: Many people still take the game as time pass. People should start realizing that it can be a profession. We just need be professional and of course, there is no substitution for hard work.