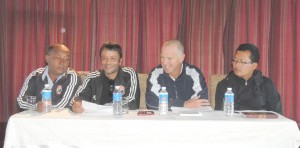 John Godbold a UEFA "A" Licence Coach arrived in Shillong today ahead of the Aircel Lajong Soccer Camp which will start from tomorrow the 19th of December to the 31st of December.
Shillong Lajong FC officials introduced the former Chelsea and Wimbledon FC footballer  to the media in a press interaction that was held in the city today.
The 47 year old coaching expert said he has worked closely with SLFC Head Coach Desmond Bulpin for many years and it was Bulpin who convinced him to visit India and also conduct the Soccer Camp in Shillong.
"I have heard so much about Shillong Lajong FC and people in the North East are really passionate towards the sport. I have worked in the United States and Singapore and it is a great opportunity for me to work here with the people from Shillong".
Shillong Lajong FC will also be organising a coaching clinic on the 28th December and Godbold said that working with coaches from Shillong will be very interesting and also it will be a great opportunity to see the level of coaching in Shillong.
It may be mentioned that, Godbold is one of the highest qualified English FA Coach Educators in the UK and has also been associated with Coaching Courses at Level 2 and Level 3 for Professional League Youth Team Coaches.
Godbold who is currently based in Qatar also commented about the Indian football scene and said that the standard of football in India has improved drastically and the National team is progressing immensely.
"Players are not born but they are made. Football is a learning process and it is very important that you work hard and put in a lot of efforts", he added.