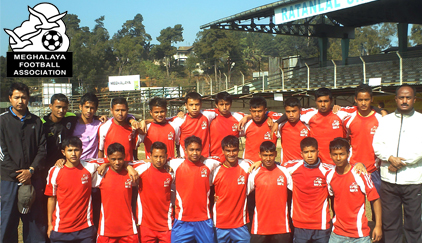 Meghalaya is participating in the above tournament that is being held at Mandya, Karnataka from 20th December 2009.
Meghalaya are grouped with Orissa, Goa and Jammu & Kashmir. Meghalaya plays its opening matche on the 20th December against Orissa. Only one team from each group will qualify for the Semis.
MEGHALAYA FOOTBALL ASSOCIATION
List of Players
1. Geremy Passah
2. Prayas Subba
3. Sandrajied Lawai
4. Pynshongdor Shadap
5. Strongwell Nongneng( lajong u-19)
6. Greeting Wahlang( lajong u-19)
7. Ksankupar Khongmalai ( lajong u-19)
8. Palma Myrthong
9. Lastborn Suring
10. Ewanmi Lakiang
11. Kerionald Pyngrope.
12. Henry Marboh ( Lajong U-19)
13. Norasius Kharumnuid( Lajong U-19)
14. Samuel Shadap( Lajong u-19)
15. Chesterfield Nongdhar
16. Victor Shadap
17. Purna Bh. Gurung
18. Denis Mawphniang( lajong u-19)
19. Eugene Shanpru ( lajong u-19)
20. Alfoster Sun
Coach:- Bobby L. Nongbet
Manager:- Prosper Warjri
Physiotherapist:- Batly Nongbri.
Match results :
Meghalaya vs Orrisa: 0 – 1
Meghalaya vs Jammu & Kashmir: 4 – 0
Meghalaya vs Goa: 1 – 2