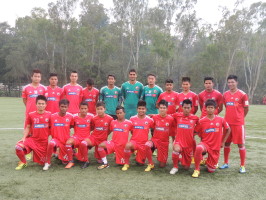 Shillong Lajong Junior Reds registered a sensational 5-1  victory over Hindustan FC in the second match of the I-League Under 19 Final Round in Jamshedpur on Wednesday.
Zodingliana Ralte opened the account for Lajong Juniors when he converted the penalty in the 11th minute. Redeem Tlang doubled the lead for Lajong when he headed the ball at the back of the net courtesy a cross from Rakesh Pradhan in the 22nd minute.
The Junior Reds who dominated the game found their third goal when Angousana striked a beautiful shot just outside the box in the 34th minute.
Tilaksukbha managed to pull one back for Hindustan FC in the 40th minute and both sides went into the break with Lajong leading 3-1.
The second half resumed and the Shillong boys started from where they left as they wasted no time in scoring their fourth goal and this time it was striker Bipin Singh who scored in the 50th minute assisted by Rojit Singh.
The Junior Reds played good attacking football and also defended brilliantly, thwarting all attempts made by Hindustan FC.
Bipin Singh scored his second goal of the match when he converted a wonderful shot inside the box in the 80th minute.
Shillong Lajong Juniors now have three points from two games and will play their next match against Tata Football Academy on the 25th of April at 4:00pm.