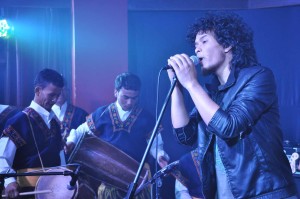 The hunt for the Shillong Lajong FC Official Club Anthem is now officially over and at the end of it all but one winner has bagged the bragging rights of "The One".
The Kingfisher Be The One Lajong FC Anthem contest kicked off in the month of December and  saw many musicians from different parts of the country participate and the club has been over whelmed with the positive response that it received from the fans.
During the final selection phase of the Anthem contest 7 entries were shortlisted and after much debate and with little time left , Jason Manners and Dauni Laloo of Shillong were finally identified by a panel of judges to win the title of "The One"  and the bumper prize- a cash award of Rupees One Lac.
The two boys from Shillong composed the winning song ,aptly titled "Long Road" ,-which maybe said to  have defined the Club and its journey ahead , amidst a bevy of other excellent entries from as far as Australia ,Mumbai and Delhi.
The  song will be produced by New York based band Monkhmer and will be officially released in the near future.
The winning entry was unveiled at Cloud9 yesterday, which also saw the winners performing,  alongside Mon Khmer and Snap Paka.