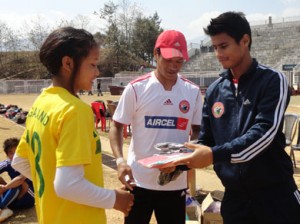 The Nagaland Premier league and the Nagaland Football Association organized a one day coaching camp for boys and girls with the intention to develop and strengthen the game of football in the State.
The coaching camp was conducted by Shillong Lajong FC , mainly the coach and senior players including Eugeneson Lyngdoh, Renedy Singh, Chitra and Tuboi, were some of the players who played a vital role in the camp.
A total of 55 young boys and girls participated and interestingly for the first time 30 girls took part in the Kohima camp conducted by SLFC.
Lajong's goal keeper Gumpe Rime also came forward to organize for the first time a goal keeping clinic.
The camp was also accompanied by a seminar which was guided by the technical team of SLFC and the technical personnel of NPL.
This camp was conducted with the aim to enhance and refine the skills of the young ambitious players which will enable them to emerge as better and stronger players in the future.