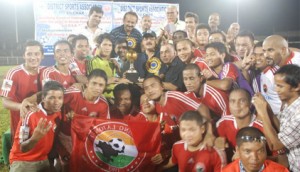 Shillong Lajong FC make their way forward into the quarter-final stage of the 32nd Federation Cup after beating Oil India FC 4-2 after extra time at the Satindra Mohan Dev Stadium in Silchar, Assam, on Saturday.
In the last of the Group A qualifiers, Oil India took the lead in the 24th minute through Jayanta Basumatry. Just six minutes later, Lajong equalised through Kelechi Okoye.
After the first period of play which read 1-1, Niwan O Gatpoh put Lajong in the lead for the first time in the match in the 74th minute. The lead was held until Oil India fought back resolutely as Jayanta scored the second for his side to make it 2-2 and that's how it ended in regulation time.
Lajong scored a goal in each half of extra time through Kryshan Nyngshnd and Anil Gurung to win the tie 4-2 and qualify for the quarter-finals.
They are now placed in Group C of the quater-final league, which consists of the likes of Mohun Bagan, Mumbai FC and Salgaocar SC.
This is what Lajong's coach Pradyum Reddy had to say after the match.
"It was a good match for us. As a coach though, I would have liked to win the match in the 90 minutes of regulation time. We would have won 2-1, but we defended badly. I have to give credit to Oil India for the way they fought in the last five minutes. In the end, the result is all that matters and the better team won," said Reddy.
When asked about Lajong coming into the qualifiers of the Federation Cup despite being last year's finalists, Reddy refused to draw up any comparisons between last year's squad under coach Stanley Rosario.
"Last year is last year, this year is this year. Everybody knows what we've done last year. This year we're coming in as the underdogs as a division two team and it's a good opportunity for us to show how much we have improved."
Lajong's first match in the quaterfinals will be against Kolkata giants Mohun Bagan on September 22 before taking on Salgaocar and Mumbai FC on 24th and 26th September respectively.