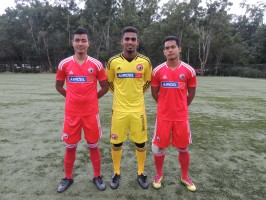 Shillong Lajong Football Club is happy to announce the new signings for the forthcoming 2014-15 Season. Aiborlang Khongjee, David Ngaihte, Seimeinlen Doungel and Rehnesh Thumbirumbu Paramba will don the Lajong Colours for 2014-15 season and will also be part of the ISL North East United FC team.
Former Lajong Captain, Aibor Khongjee is all set to make a comeback after a two season stint with Kolkata outfit, Mohun Bagan AC. The 26 year old Defender had a successful season at Mohun Bagan last year and also made his debut for the National Team in 2013.
JCT Academy product, Seimeinlen Doungel is a 20 year old Forward player who hails from Manipur, left Kolkata giants Kingfisher East Bengal to join the Reds in the upcoming I-League season. He is currently with the Indian team preparing for the Under23 Incheon Asian Games with an exposure trip to Czech Republic and China.
Lajong has also inked the services of David Ngaihte and Rehenesh Thumbirumbu Paramba.
David, a Manipuri Midfielder grew up playing football in New Delhi while Goalkeeper Rehnesh Thumbirumbu Paramba who hails from Kerela also signed a new deal with the Reds. The Club will look to benefit immensely from the services of these talented new signings.
Prior to this latest development, Lajong agreed terms with 5 new players who also represented India in the Under 19 AFC Cup Qualifiers last year namely, Alen Deory from Assam, Vishal Kaith from Himachal Pradesh, Issac Vanmalsawma & Joseph Lalfakzuala from Mizoram and Pritam Kumar Singh from Manipur for the Lajong Senior Team Squad.
Altogether, Lajong has signed 9 domestic players who will also ply their trade in the much anticipated IMG Reliance League, the Indian Super League which is scheduled to commence in September 2014.
Assamese striker Durga Buro who joined Lajong in February 2014, has extended his contract with the Reds and will also be part of the North East United FC squad.
Shillong Lajong FC Head Coach Thangboi Singto said, "This is a step forward for the Club and we are extremely delighted to have secured the services of these talented players to our club and feel confident that they will help us achieve our targets in the upcoming season."
Shillong Lajong welcomes newcomers Aiborlang Khongjee, David Ngaihte, Seimeinlen Doungel, Rehnesh Thumbirumbu Paramba, Alen Deory, Vishal Kaith, Issac Vanmalsawma, Joseph Lalfakzuala and Pritam Kumar Singh to the "Home of The Reds" and wish all of them a wonderful season with Lajong.