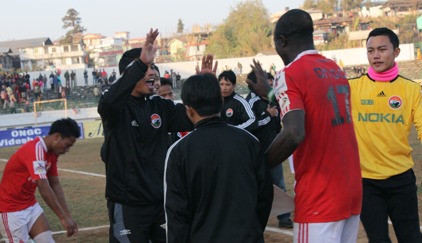 The match was all set to end in a 0 – 0 draw but a beautiful side volley from Daniel Bidemi saw Lajongs boys earn three full points from a high intensity match. The game started of on a positive note with Lajong attacking from the word go with an early attempt from Daniel just going wide. Lajong played a better match with alot more movement of the ball and passes. The team had their Chances. In the 89th Min Daniel volleyed home the winner.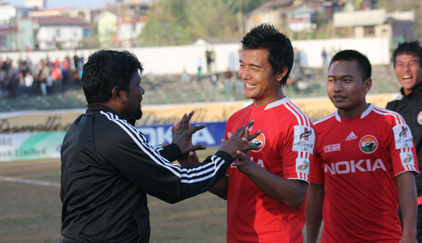 Daniel Bidemi was later adjudged to be the man of the match.
Match Report
Shillong Lajong F.C stunned the Federation Cup Champions East Bengal edging past 1-0 in the 15th round clash of the ONGC I-League match played at the JN Stadium, Shillong here on Saturday.
The all decisive goal was scored by Lajong's Daniel Bademi down the wire (89') which helped Stanley Rozario- coached side to pocket three vitals points in a run up to stay away from the red line. He was further adjudged the ''Man of the Match'' for his match winning performance.
Stanley Rozario came out with new ploy reshuffling the players playing position and that got paid off towards the fag end of the match when combination of three Nigerian paved the way for the winner.
It was Kelechi Okoye who took the throw in from the touch line that found the boot of James Giblee, who wasted no time to set the ball for unchecked Daniel Bidemi inside to do the rest in the 89th minute to earn full points for his team.
The game kicked off on a normal note with both the teams trying to penetrate each other defence line, however East Bengal certainly looked off colour as they failed to give a real test to Lajong stand-in custodian R. Lalthummawia except in 70th minute when Abel Hammond headed a cross ball from Yusif Yakubu which was well anticipated by the Lajong goalkeeper.
With this win Lajong are still second from the bottom with 13 points from 15 matches, while East Bengal position too remained static as they find themselves at seventh place with 20 points.