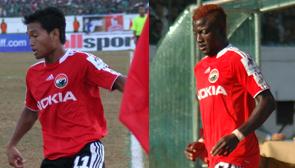 Mahindra United dropped points in Shillong as they went down 1-2 against low lying Shillong Lajong SC. Mohammad Rafi of Mahindra opened the scoring in the 9th minute but Lajong scored twice in the second half through Boithang Hoakip and Daniel to take three precious points.
Hosts Lajong were missing their talented striker Seikhohao Tuboi but were confident of getting something in their own backyard.
Mahindra were also missing their top scorer Muritala Ali but nine minutes into the game his absence wasn't really felt as Mohammed Rafi headed home an inch perfect cross of Svetozar Mijin to put David Booth's side in front.
It was Rafi's 12th league goal of the season and it set his team on course for another away win.
But the young team of Lajong didn't lose heart as they kept pressing for the equalizer and with the support of a packed home crowd behind them, visitors Mahindra knew that the game was far from over.
Stanley Rosario's team did finish the half strongly but Mahindra defended well and went into the halftime break with that one goal advantage.
Prior to this, Lajong had only lost two out of nine in Shillong so they were determined to maintain thei impressive record and thus came out in the second half with full of attacking intent.
The north eastern club's efforts were finally rewarded eight minutes into the second period when winger Boithang Hoakip slotted the ball past Mahindra keeper Subhashish Roy Chowdhury from close range after Anil Gurung's shot rebounded off the goal post.
The equalizer brought huge excitement in the stands but the home fans were not ready to settle for a point so they urged their team to go on and win the game.
Mahindra came into this four points behind Dempo so were desperate to regain the lead but Lajong restricted them to very few clear cut chances.
Stanley Rosario's team also were finding it difficult to create openings and the game was heading for a draw.
But in the 86th minute James Giblee's well crafted cross was headed into the back of the net by Daniel Bedemi much to the delight of the thousands of Lajong fans that had gathered in the stadium.
The Mumbai outfit were totally shocked and couldn't find a response as Lajong held on for three valuable points which also ended Mahindra's unbeaten away record.
Lajong move up to 11th spot and are now three points above the bottom two while Mahindra's second defeat of the season is a massive blow for their title challenge as they remain four points off the top with only five games remaining.
Goalscorers:
Mahindra Utd: Mohammed Rafi ( 9')
Shillong Lajong FC: Boithang Hoakip ( 53') Daniel Bedemi ( 86')