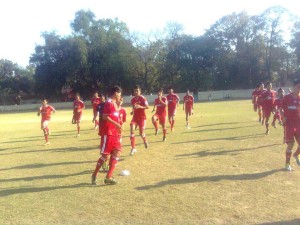 I-LEAGUE UNDER 20: SHILLONG LAJONG FC vs CHURCHILL BROTHERS SC
Shillong Lajong FC will open their Under 20 I-League campaign with an expected high-octane encounter  against Goan side Churchill Brothers SC to be played at the JRD Tata Complex in Jamshedpur on Wednesday ,the 6th of March at 1 pm.
Lajong finished third in the 2012 edition –an achievement of sorts-after fielding a very young squad in the League. The Shillong Lajong Squad is ably helmed by Gumpe Rime-a man who is no stranger to the "big" game expectations and atmosphere, having been a part of the Senior Lajong squad who firmly established itself as a Football powerhouse in the North-East.
Commenting on the game, Gumpe said"The boys are in a good mood and are fit and raring to go. They have been training very hard and I believe that they can deliver a good performance."
Out of 4 matches, Lajong will be playing three of their games at 1PM and Coach Gumpe added that, "My biggest concern is the heat factor as it is very hot during the day time."
"It is important to start the campaign on a winning note and we need to have a positive approach to the game."
Shillong Lajong were victorious the last time the two teams met in the 2012 edition of the I-League and tomorrow's game promises to be very exciting considering the never say die attitude and the will to fight till the end of the Boys in Red, regardless of the oppositions stature and ranking.