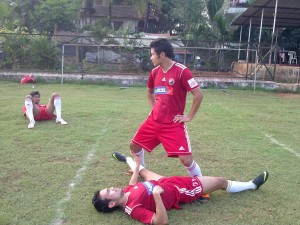 Shillong Lajong FC will take on heavyweights Dempo SC in the round 5 of the I-League 2012-13 season, tomorrow at the Fatorda Stadium, Goa.
After a morale boosting win at home against Prayag United, Shillong Lajong FC will be playing its first away game against the defending champions of the I-League.
Head coach of Shillong Lajong FC Desmond Bulpin said that,  "We have come all the way to Goa to play our first away  game and we will try to win it. No doubt it will be a very hard game as Dempo has many Indian internationals in their squad also."
He further added that, "I believe that the boys will fight hard till the last minute and it is important that the boys give total commitment. They will have to put in a lot of effort  in order to win against the Goan giants."
Tomorrow's game will be the Red's first away test and it certainly will be an interesting encounter, after a close result in the two team's last meeting.
Head to Head
Federation Cup ‎‎               21-Sep-2012     Dempo Sports Club 1 – 0 Shillong Lajong FC
I-League ‎‎                             22-Jan-2012      Shillong Lajong FC 1 –  2 Dempo Sports Club
I-League ‎‎                            23-Nov-2011     Dempo Sports Club 5 – 0 Shillong Lajong FC
I-League ‎‎                            09-May-2010     Shillong Lajong FC 0 – 1  Dempo Sports Club
Federation Cup ‎‎                24-Dec-2009     Shillong Lajong FC 2 – Dempo Sports Club 1