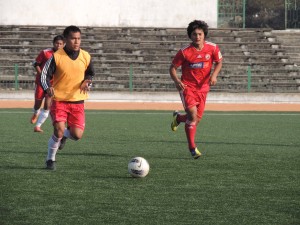 Lajong host defending champions Dempo SC on Sunday in what promises to be an exciting encounter in the 16th round of the I-League 2012-13 season which will be played at the JN Stadium Shillong at 2PM.
In a press interaction that was held today, SLFC Head Coach Desmond Bulpin said "We still have lots of injuries at the moment but I am positive and will always be positive. We are looking for a win tomorrow and if we can get three wins in a row we will be in a better position and climb up the table."
He also said that Ebi will be back for tomorrow's game and will play in front along with Frday as Sushil Kumar Singh has been suspended.
"I believe that we are very strong at home and we just need luck to favour us this time. The league is very tight and competitive this year", he added.
Crossing over Head Coach of Dempo SC Armando Colaco said that the boys are working very hard at the moment and voiced his hopes that the Goan side can retain the title season.
"The Premier league defending champions Manchester city are not in the top position right now but they might win the league again. So I hope that our boys will play good football tomorrow and help the club come back to the top position".
"We played Lajong in November at home. They travelled from a cold planet to a hot planet. Same with us we are coming from a hot place to a cold place. So we had more advantage when we played them in Goa. And tomorrow Lajong will have a bigger advantage tomorrow considering the climate in Shillong is very cold".
"We will play good football tomorrow like we always do and hopefully go back home with all the three points".
From the spectators' point of view, who will still probably remember the cruel result the last time Dempo was here(winning in stoppage time via a "harsh "penalty decision,) nothing will suffice  less than a win for the Reds, and surely at 2 pm sharp on Sunday, a huge test awaits the home side as they face  off against the Goan Giants with huge expectations and prayers riding on their backs.