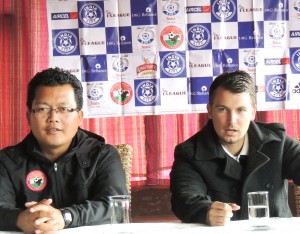 In the round 19 of the I-League, Shillong Lajong FC will take on United Sikkim FC in what promises to be an exciting and crucial North East Derby which will be held at the JN Stadium Shillong at 2PM on Saturday.
On the 8th of December last year United Sikkim hosted Shillong Lajong FC and both sides had to share points as the game resulted in a goalless draw.
The home team is currently in the 10th position with 16 points and in a pre-match press conference that was held today Coach Thangboi Singto of Shillong Lajong FC said , "It is a battle of two North Eastern teams and it will be a tough game. We are looking for nothing less than a win."
Coach Thangboi also voiced out his concern as some of the crucial players are injured and said, "Injuries are bound to happen and we will be missing our captain Renedy Singh including Govin Singh and Chitrasen and Eugene will be out due to suspension."
United Sikkim is currently in the 13th position with 12 points and Nathan Hall head coach of United Sikkim FC said "It will be a tough match but we need to win tomorrow. At the moment I am satisfied with the team and the players are very energetic on the pitch.
"The boys were good against Pailan Arrows but we were just unlucky not to take home all the three points. But there is a lot of improvement right now and the players are working very hard", he added.
Stating that Lajong will have the advantage considering the home crowd support Sikkim Coach Nathan Hall said, "Shillong Lajong is a very good team and a tough side to beat at home. But some of the players who were injured will be back for tomorrow's game as they have fully recovered from their injuries and the credit goes to the medical staff", he concluded.
Head To Head :
League ‎                ‎                                   08-Dec-2012  United Sikkim Football Club 0 – 0 Shillong Lajong FC
I-League 2nd Division    01-May-2011    Shillong Lajong FC 2 – 2 United Sikkim Football Club