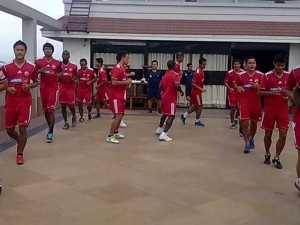 Shillong Lajong FC, won their first game against Mumbai FC (2-1),on Wednesday and is currently at the top of Group A table. The Reds will take on Champions of the I-League 2011-12 season, Dempo SC on Friday, in the ongoing Federation Cup Football tournament.
Twelve teams have been divided into four groups, and the tournament is being held in Jamshedpur and Siliguri.
Due to the Bharat Bandh today, Shillong Lajong FC trained on the terrace of the hotel which they are staying in Jamshedpur.
Shillong Lajong FC started the Federation Cup on a positive note, beating Mumbai FC, 2-1 on Wednesday, and the team is hoping to grab all the three crucial points and shall go all out for it.
Head coach of SLFC, Desmond Bulpin said, "We got lots of injury problems at the moment".
He also said that the pitch is very difficult to play on and also it is very hot during the daytime. It could have been better for both the teams if the game was played in the evening under the floodlights and the fans also, would enjoy a high tempo game as the climatic conditions in the evening is much cooler.
"We are doing the best we can", he added.
Lalrinzuala Khiangte , who is from the Shillong Lajong FC Academy will also get a chance to play tomorrow along with his seniors. Bulpin said that, the 18 year old boy performed extremely well during the pre-season and he deserves to be in the squad.
Head To Head: SLFC and Dempo SC
I-League                     22 Jan 2012               Shillong Lajong FC 1 – 2 Dempo SC
I-League                     23 Nov 2011              Dempo SC 5 – 0 Shillong Lajong FC
I-League                     09 May 2010             Shillong Lajong FC 0 – 1 Dempo SC
Federation Cup         24 Dec 2009              Shillong Lajong FC 2 – 1 Dempo SC
I-League ‎                    11 Oct 2009               Dempo SC 4 – 1 Shillong Lajong FC