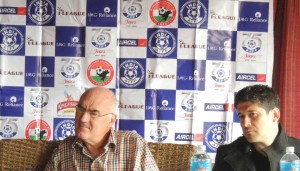 Shillong Lajong FC will host Pailan Arrows, the AIFF developmental side in the I-League round 8 at the JN Stadium Shillong tomorrow at 2PM.
In a pre-match press conference today, Head Coach of Pailan Arrows, Arthur Papas said that Shillong Lajong FC is a tough team, they can get a good result and is expecting an aggressive fight.
"Every game we play is for a win but people make assumptions too quickly. It is very important to give the boys confidence and make them organised. The players should understand their role and the key is to stay focussed."
Pailan Arrows have made a remarkable improvement comparing to the last season but Coach Papas made it very clear that he is looking forward for a good result this season and is hoping for his boys to give a good performance tomorrow.
"Shillong Lajong is a strong team and comparing to the other clubs they can really press the ball", he added.
Desmond Bulpin, head coach of Shillong Lajong FC said that Shillong is the best place to play football and the most difficult thing for Lajong is that they have to travel to far off places for away games and it is always a tiring journey.
"If you make mistakes it is tough to win games and if you want to play like Real Madrid, the team should have those kind of players."
"The boys have been outstanding and I am very happy with them. But the problem is people tend to have the winning mentality but we should not be nervous, instead be confident and continue to have the fighting spirit."
He also said that, "negative thoughts bring negative actions and if a club can beat a top team then they can beat any other team. We had three defeats in a row but we need to move on and should not be affected by people who have negative thoughts.
Three players will be doubtful for tomorrow's game and this is a serious concern for the team but Govin Singh will make his comeback tomorrow and he is fit and out of injury", he concluded.
Head to Head
Federation Cup ‎  23-Sep-2012   Pailan Arrows 2 – Shillong Lajong FC 1
I-League ‎               05-Feb-2012   Pailan Arrows 0 – Shillong Lajong FC 2
I-League ‎             19-Nov-2011   Shillong Lajong FC 1 – Pailan Arrows 0