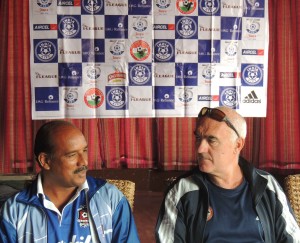 Shillong Lajong FC will host Goan side Churchill Brothers SC in the round 7 of the I-League 2012-13 season on Saturday at the JN Stadium Shillong at 2PM.
In a pre-match press conference that was held today Mariano Dias, Head Coach of Churchill Brothers said that, "Shillong Lajong is a good side and they played well against Dempo and we respect Lajong".
"In our last game we lost against East Bengal but losing and winning is part of the game", he added.
He also said that, considering the crowd support that Lajong has we will give our best and play a normal game tomorrow".
Head Coach of Shillong Lajong FC Desmond Bulpin said that, Minchol Son and Ebi Sukore will be back tomorrow as they are out of injuries.
He further said that, "Churchill Brothers is a good team and a very strong side but we are looking for a win tomorrow.
It will be a tough game but football at times is controlled by luck. Sometimes you don't get what you deserve.
We get lots of goal scoring opportunities but we always fail to convert. All we need to give is total commitment and effort and fight till the end.
The morale of the team is high and your support in numbers and vocally will give them a massive boost because together and united,nothing is impossible.."
HEAD TO HEAD
I-League ‎               18-Jan-2012      Shillong Lajong FC 0 – Churchill Brothers SC 2
I-League                17-Dec-2011     Churchill Brothers SC 6 – Shillong Lajong FC 0
Federation Cup   17-Sep-2011     Churchill Brothers SC 3 – Shillong Lajong FC 1
I-League ‎‎                11-Apr-2010    Churchill Brothers SC 1 – Shillong Lajong FC 0
I-League ‎‎                27-Jan-2010     Shillong Lajong FC 0 – Churchill Brothers SC 0