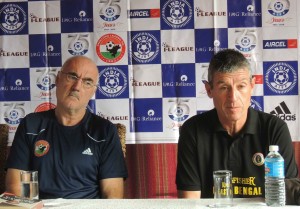 The Reds play host to the mighty East Bengal in what will prove to be an intensely contested match of the I-League Round 9, at the JN Stadium Shillong at 2PM on Saturday.
In the I-League 2012-13 season, Shillong Lajong FC defeated all the 3 clubs from Kolkata at home. The North Eastern outfit won 2-0 against Mohun Bagan AC, 2-1 against Prayag United and 3-1 against Pailan Arrows.
East Bengal on the other hand will be looking forward to extend their unbeaten streak to 9 games this season and to add to that Trevor Morgan's side have just conceded a solitary goal.
For the Reds, the coordination between Sushil and Friday will be crucial to make headway into the East Bengal defence.
In a pre-match press conference that was held today Trevor Morgan, head coach of East Bengal said that the last time we lost was in February and it was against Lajong but since then everything has been working out fine and the boys have been outstanding.
"Lajong is a strong side and the support the club gets from the crowd is great and people in Shillong are very well educated about football. The game tomorrow is another big challenge for us to overcome if we want to stay at the top", he added.
Crossing over, Shillong Lajong FC head coach Desmond Bulpin said that, "We are confident to get a good result and we hope that our supporters will continue to stand behind us and cheer for us throughout the game".
"It will be a competitive game but we always go for a win and do not believe in playing for draws", he concluded.
HEAD TO HEAD:
I-League              11-Feb-2012    Shillong Lajong FC 2 – East Bengal 1
I-League ‎             06-Nov-2011    East Bengal 2 – Shillong Lajong FC 0
I-League ‎             06-Mar-2010    Shillong Lajong FC 1 – East Bengal 0
Federation Cup ‎03-Jan-2010     East Bengal 3 – Shillong Lajong FC 0
I-League ‎             12-Nov-2009    East Bengal 3 – Shillong Lajong FC 0