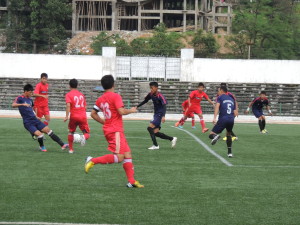 Shillong Lajong FC got the better of Boys Sports Company, and registered a  1-0 win, in their opening game of the Shillong First Division Football League Tournament held at the JN Stadium Shillong on Friday.
Shillong Lajong started all guns blazing and was the more confident side, enjoying majority of the ball possession.
Redeem Tlang started up front, and could have given his team an early lead but unfortunately his shot went wide. Lajong had several chances, which also saw brilliant efforts from Shanbor and Hardy, but were not lucky enough to find the back of the net.
Boys Sports managed to create few chances for themselves towards the end of the half but were denied due to some brilliant keeping done by Lajong custodian Nitin.
Efforts of the young boys in Red finally paid off when Redeem Tlang's superb shot found the back of the net in the 45th minute, and the half ended with Lajong having a one goal cushion.
After the break, Boys Sports Company pressed hard for the equaliser but Lajong defended with resilience and denied all their attempts on goal.
As the game wore on, Shillong Lajong had many chances but Boys Sports thwarted any attack launched by the Reds.
The referee eventually blew the final whistle to put the game to bed and awarded Lajong's first win in their opening game of the league.