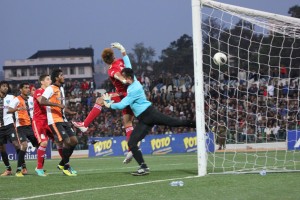 The script could not have been better written. It truly was a memorable finale to the I-League in Shillong(being the last home game of the season).The atmosphere was electric, the sea of supporters robust ,as the players lined up for the Shillong Lajong –Mumbai FC match, under cloudy and overcast skies, in Shillong.
On the field though ,Shillong Lajong started brightly with Edinho Junior looking dangerous in front,on a couple of occasions, and linking up well with strike partner,Sushil Kumar,who himself came close to opening the scoring for the Reds.Five clear chances in front of goal came for Shillong Lajong,who dominated from the word go.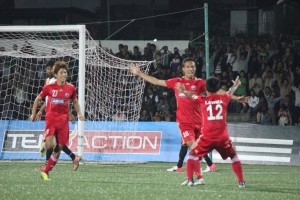 Chance after chance and after what seemed like an eternity,the crowd was brought to life when Minchol Son glanced a header past the Mumbai custodian in the 33rd minute,to send the crowd into ruptures. The stadium was now a rip-roaring spectacle of Lajong Faithfuls,draped wholly in Red.
The two sides continued to trade blows, as the game opened up more with the passage of play.The first half though,did not see any more goals,as both teams went into their dressing rooms.
After the break  the visitors started to play with a little more urgency,to find the much needed equaliser but lacked the finishing touch and failed to get past a strong Lajong wall who were now defending with belief and sheer grit.
The home side too had a plethora of chances ,with Rennedy Singh almost making it 2-0,for his side,when his free kick was parried away by the Mumbai keeper. Chance after chance came for both teams more so Shillong Lajong as the game wore on towards its finish. And finally, after a bright passage of play,Sushil Kumar struck one from close range in the 79th minute to put the game to bed and beyond the Mumbaikars.
Both sides used all of their substitutes, with the Reds bringing in Sho Kamimura for Edinho,who was given a rousing farewell,PC Lalhimthara for Boithang and Samson Ramengmawia for Rennedy Singh.
Mumbai,meanwhile,brought on James Singh for Gabriel Fernandes, Jayesh for Darren and John Coutinho for Nicholas Rodrigues.
After that,it was merely  a matter of time before the crowd could finally celebrate a much deserved win.
The win did come,when the referee blew his whistle, confirming the three vital points for the Reds and closing the I-league (in Shillong) on a thrilling and positive note for Shillong Lajong.