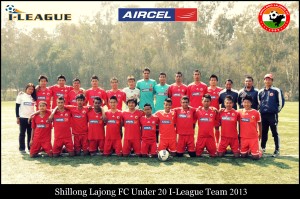 A spirited Shillong Lajong FC Under 20 team got the better of Group C table leaders, Mohun Bagan to register a 3-1win in their final Group C match of the I-League U20 football tournament in Jamshedpur on Thursday.
Mohun Bagan took the lead when Polat fired the ball home in the 24th minute.
After conceding the goal Lajong started playing with more purpose and intent and started creating more inroads inside the Bagan defence on several occasions, showing off their skills and talent by displaying good quality football.
Their efforts paid off when Zodingliana drew the Reds level in the 43rd minute with a sublime free-kick delivery.
The referee eventually blew the whistle to bring the half to an end with both teams levelled at 1-1.
After the break, Shillong Lajong FC started off as the brighter side leading to Lalrammuana finding the back of the net in the 51st minute, and gave his side the crucial lead for the first time in the match.
The North Eastern side continued to threaten and displayed good attacking football, gaining more ball possession than the Kolkatan outfit. The Reds then put the game to bed when Lalrammuana scored his second goal and his team's third of the match, searing past the Junior Mariners.
It surely was an outstanding display by the young Lajong colts,who eased past the Group leaders,and due credit must be given to the inspired display of football by the boys. However, the Lajong youngsters failed to qualify for the final round of the Under 20 I-league tournament as they could manage only 6 points from their four games while Mohun bagan and Sesa earned 7 and 8 points respectively, making them the top two teams from Group C.